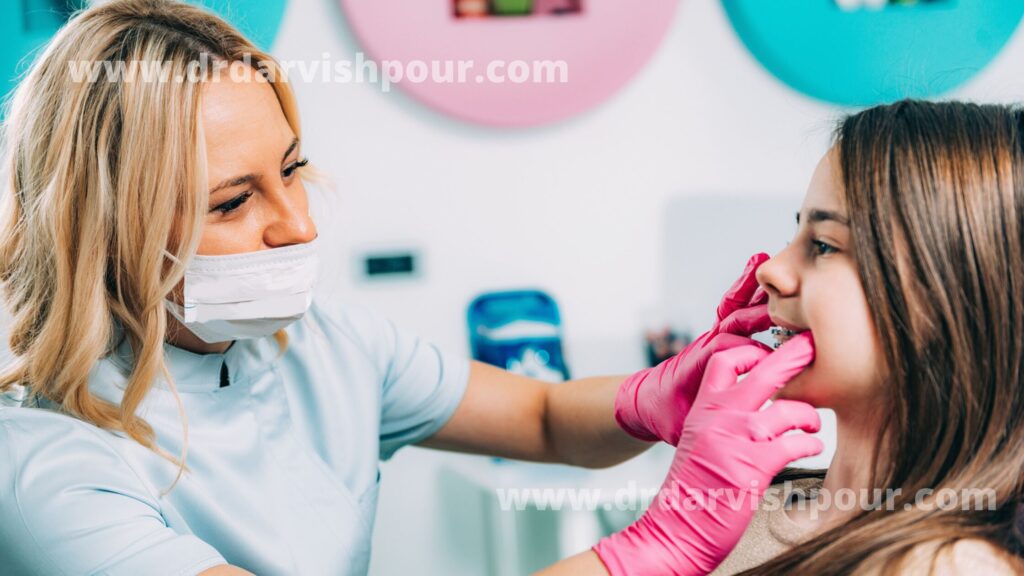 Who Is An Orthodontist ?
An orthodontist is a dental professional who furthers his education by attending a three-year full-time advanced program in orthodontics. In other words, an orthodontist is a licensed dentist who is specialized in preventing and treating teeth irregularities such as crooked teeth, crowded teeth, overbite and under-bite problems. An orthodontist examines your cuspid teeth to determine the best treatment adapted to your problems. One of these solutions is to use braces. If a dentist concludes that there is a need for further treatment beyond the general dentistry scope, he might refer his patients to an approved orthodontist.
The problem with crooked and misaligned teeth is not just about the appearance. Headache, truisms, speech impairment, bone destruction, etc. are among the more serious problems to be expected.
Both the dentist and the orthodontist complete the general education
An orthodontist or a dentist must both complete the same general education. Both must graduate with a PhD degree. A dentist can start practicing right after graduation.
To become specialized in orthodontics, a dentist should attend a three-year full-time advanced program in orthodontics. Both the dentist and the orthodontist require extensive education in order to professionally practice. A dentist should complete a six-year academic education, while an orthodontist should study 9 or 10 years to become a specialist.
Who is a dentist?
We all have visited a dentist at least once in our lifetime. Of course, we hope that this visit has just been about teeth scaling and radiography to maintain your oral health. Dentistry is a vast medical field that focuses on the health of the teeth, gum, mouth and jaw. Dentists treat a wide range of oral problems and diseases such as tooth cavities and decays and also gum problems like gum inflammation (gingivitis). Dentists are licensed to perform surgeries like root end surgery (apicoectomy) and wisdom tooth extraction as necessary.
Visiting a dentist twice a year is the right amount for most people to maintain their oral health. Ideally, you can designate one visit to scale your teeth and the other to take radiograph of your mouth and jaw to eliminate any potential problem.
What is the difference between a dentist and an orthodontic specialist ?
There are certainly areas of overlap between a dentist and an orthodontist. In other words, all orthodontists are licensed dentists but all dentists are not orthodontic specialists. Orthodontists are commonly specialized in aligning the teeth and jaw, while dentists can help the patient to have a healthier and cleaner smile by teeth scaling, radiography and surgery.
Usually, diagnosis, treatment and managing your overall oral hygiene such as a routine dental work, checkup, teeth scaling and dental radiography are all part of a dentist's job. Moreover, dentists do jobs like tooth extraction, fixing dental problems like filling cavities and also making denture (artificial teeth) mold. In general, treatments provided by a dentist include:
Gum care

Filling

Dental crown

Teeth whitening

Dental bridge

Root canal treatment
Some dentists may suggest providing orthodontic services.
However, in most cases, if you are in need of a treatment beyond the dentist's specialty, he refers you to another oral specialist. For instance, if your teeth need to be aligned, your dentist will refer you to an orthodontic specialist.
You should visit a dentist at the earliest time possible upon perceiving any of the following:
You are concerned about your gum and dental health.

You doubt that you may have a tooth cavity or decay or even gum problems.

You want to learn how to take care of your teeth and mouth to prevent any dental problems and diseases.
A dentist can evaluate your oral health and provide you with the care you need.
You should visit an orthodontist if you notice any of the following:
Your teeth are crooked, misaligned or crowded.

Your teeth are overbite or underbite.

Your teeth have affected your chewing or speech.

Your teeth cause pain (like headache).
An orthodontic specialist is able to evaluate your dental alignment and take the best course of action to fix the problem.
Cosmetic dentistry
"Cosmetic dentistry" is a field where the best parts of dentistry and orthodontics are merged. This dentistry specialty focuses on improving the aesthetics of a person's smile using options such as teeth whitening, dental crowns and dental porcelains. This process creates a healthy and noticeable smile without the need for braces. Cosmetic dentistry is a crucial option for adults who are reluctant to go through the trouble of orthodontics.
Invisible orthodontics or Invisalign
"Invisible orthodontics or Invisalign" is one of the options in cosmetic dentistry. Invisalign is a clear mold that is made specifically for your mouth to align your teeth and create a more beautiful smile. Unlike conventional braces, Invisalign retainers are nearly invisible. This kind of braces is ideal for individuals who don't want to have any braces or wires on their teeth. With its successful experience, Invisalign has shown that it can be as effective as braces.