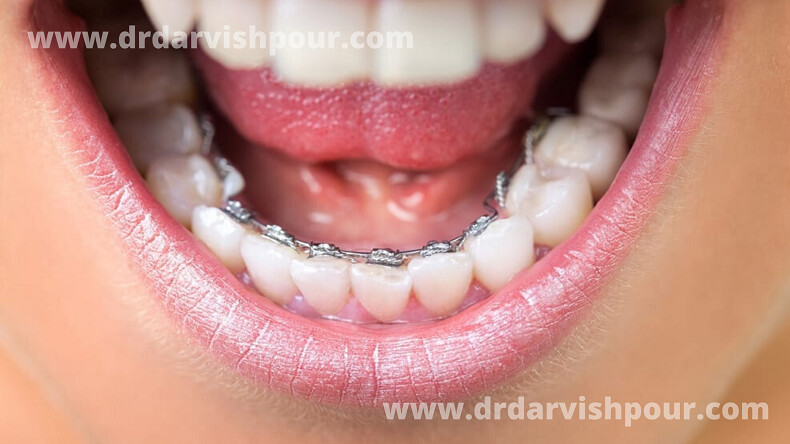 Lingual Braces
Lingual braces is a orthodontics  treatment method where the orthodontic appliance (bracket, wire and elastic) is attached to the inside of the teeth (towards the tongue).
فهرست عناوین این مقاله
پنهان
Lingual braces are sometimes called "inside braces" due to their positioning. In contrast, conventional braces are located on the front side of the teeth.
Lingual and conventional braces have many similarities in terms of the type of hardware and the orthodontic principles.
Advantages
The key advantage of lingual braces is their invisibility.
If someone looks carefully inside your mouth, they may get an overall glimpse of your orthodontic appliance (especially if the lingual braces are mounted on your lower teeth). Otherwise, they're not easily visible.
If you feel that it's embarrassing for you to wear fixed braces, lingual orthodontics is one of the invisible orthodontic methods that you can consider.
Lingual braces are more capable to correct complex problems, such as changing the height of teeth, tooth rotation and closing the empty spaces between teeth.
If the patient doesn't take care of the oral hygiene, the potential discoloration on the backside of the teeth won't be noticed.
Disadvantages
Disadvantages of this method include:
One of the biggest downsides is that lingual braces are difficult to use and wear.
Since mounting lingual braces is difficult due to their location, the appointments with your orthodontist during treatment takes longer than fixed braces. However, due to the continuing advancements in designing the lingual system, these downsides are not considered as major problems.
Who can benefit from lingual brace treatment?
The best way (and in fact the only way) to determine if lingual braces can be used in your situation is to consult with an orthodontist. For the most part, however, most adolescents and adults are good candidates for lingual orthodontics.
There are orthodontists that may have some concerns when selecting patients.
1.Bite problems
Patients whose teeth overlap excessively (have a deep vertical overbite) might apply heavy forces to the brackets when they chew or close their teeth.
2.The quality of results
Despite some statements made over the last decades, there is nothing fundamentally lacking about the lingual technique. The results expected from lingual orthodontics are the same as fixed orthodontics.
The use of high-tech CAD/CAM and robotic wire-bending technology in the lingual method has resulted in more predictable outcomes.